Matthews Asia ex Japan Dividend Fund: Dealing with Volatility
A dividend approach can potentially mitigate the volatility inherent in Asia's markets.
After a strong end to 2019, Asian equity markets experienced a large reversal in fortunes in the first three months of 2020. Having risen 11.85% in the fourth quarter 2019, the MSCI All Country Asia ex Japan Index fell 18.36% during this quarter1 as markets saw huge sell offs when countries went into lockdown mode following the outbreak of COVID-19.
Concerned about the prospects of a global recession, we observed that investors stopped paying attention to fundamentals with indiscriminate selling affecting companies both large and small. Against this backdrop the Matthews Asia ex Japan Dividend Fund outperformed the Index on a relative basis, falling 14.52% during this quarter.1 So what did we do with the portfolio during the quarter? Market sell-offs like these provide an opportunity to buy higher quality structural growth businesses at much cheaper prices. Weakness in the Chinese markets in late January and early February prompted us to add both a domestic consumption Chinese A-share stock and a Hong-Kong-listed real estate business. Over the rest of the quarter, we added a Taiwanese technology hardware stock and are building up a position in an Indian financial company.
However despite these opportunities, now is not the time to be overly aggressive. Across our dividend portfolios, we tend to balance companies that grow their dividends with those that offer a stable and attractive dividend yield. Going into 2020, the Fund was split roughly 60%–40% in favor of dividend growers over dividend payers and we maintained this ratio in the first quarter, while aiming to increase the quality of the companies in the portfolio.2 In this Fund, we look for attractive and sustainable dividends, rather than high-yield, and focus on a company's ability and willingness to pay out.
Given widespread expectations of a looming global recession, dividends have come under pressure globally. In previous downturns, dividend cuts in Asia were largely confined to commodities, industrials and banking stocks. Yet Asia is now home to many income-generating companies and it is possible to construct a diversified dividend portfolio across sectors, countries and market-capitalizations.
We have noted that small-and mid-cap companies are frequently overlooked from an income point of view. Often these can be fast growing businesses where the original founder/family is still the majority shareholder. For them, dividends are a significant source of income and cash flow. In our view these types of companies are more likely to be resilient in their dividend policy and may emerge quicker from a coronavirus lockdown.
Furthermore the portfolio emphasizes consumer-related businesses rather than companies that are more exportoriented or cyclical in their nature. In our view companies in consumer, healthcare, and technology sectors are well positioned to capture structural growth from Asia's rising household income and expanding middle-class population over the long term. It is also important to consider the underlying business that is paying dividends. Some of the high-yielding cyclical companies might struggle with demand and pricing power in a global downturn.
In our portfolio, we favor companies that can generate strong organic cash flow and prefer moderate payout ratios, which gives the company better dividend coverage and potential for further dividend growth through expansion of the payout ratio. We believe the risk of a dividend cut is more muted for these types of companies. Still, we acknowledge the corporate earnings outlook is cloudy at this point. They are likely to fall in the short term before recovering, eventually. Markets, however, tend to bottom earlier than corporate earnings.
When we look at valuations, the MSCI All Country Asia ex Japan Index offered a price-to-book value of 1.27 times as of 31 March 2020.3 This is just above the historical trough level of 1.16 times during the Global Financial Crisis as of 28 Nov 2008,3 yet the revenue drivers for Asian companies are different today: they are much less reliant on exporting. Led by China, we have seen Asian economies become more domestic consumption-driven and we believe earnings will be more resilient because of that.
It is, however, important to be selective. The post containment phase is likely to cause some structural changes in Asia, and we believe some businesses will struggle to adapt to a post-pandemic environment. Furthermore the consumption recovery might take some time.
Covid-19 has caused a lot of disruption across markets this quarter. In December 2019 we expected investors to increasingly focus on equity fundamentals in 2020, yet the first quarter of this year proved us wrong in this regard. What lies ahead is a difficult question to answer.
It is important to note that a dividend approach can potentially mitigate the volatility inherent in Asia's markets. We believe consistent payment of dividends can provide important signals regarding a company's overall strength, stability and quality of corporate governance. Investors should consider that our dividend style of investing has taken volatility into account and we remain cautiously positioned for a potential earnings recovery.


Yu Zhang, CFA
Portfolio Manager
Matthews Asia


1 Data as of 31 March 2020, in USD, I (Acc) for the Fund.

Performance details provided are based on a NAV-to-NAV basis with any dividends reinvested, and are net of management fees and other expenses. Performance data has been calculated in the USD, including ongoing charges and excluding subscription fee and redemption fee you might have to pay. Source: Brown Brothers Harriman (Luxembourg) S.C.A. All performance quoted represents past performance and is no guarantee of future results. Investment return and principal value will fluctuate with market conditions so that when redeemed, shares may be worth more or less than the original cost. Current performance may be lower or higher than performance shown. Investors investing in Funds denominated in non-USD should be aware of the risk of currency exchange fluctuations that may cause a loss of principal.

2 Sources: Matthews Asia, Bloomberg

3 Source: Matthews Asia, Bloomberg.


Price-to-Book Ratio (P/B Ratio): Price-to-Book Ratio (P/B Ratio) is used to compare a stock's market value to its book value. It is calculated by dividing the current closing price of the stock by the latest quarter's book value per share. A lower P/B ratio could mean that the stock is undervalued.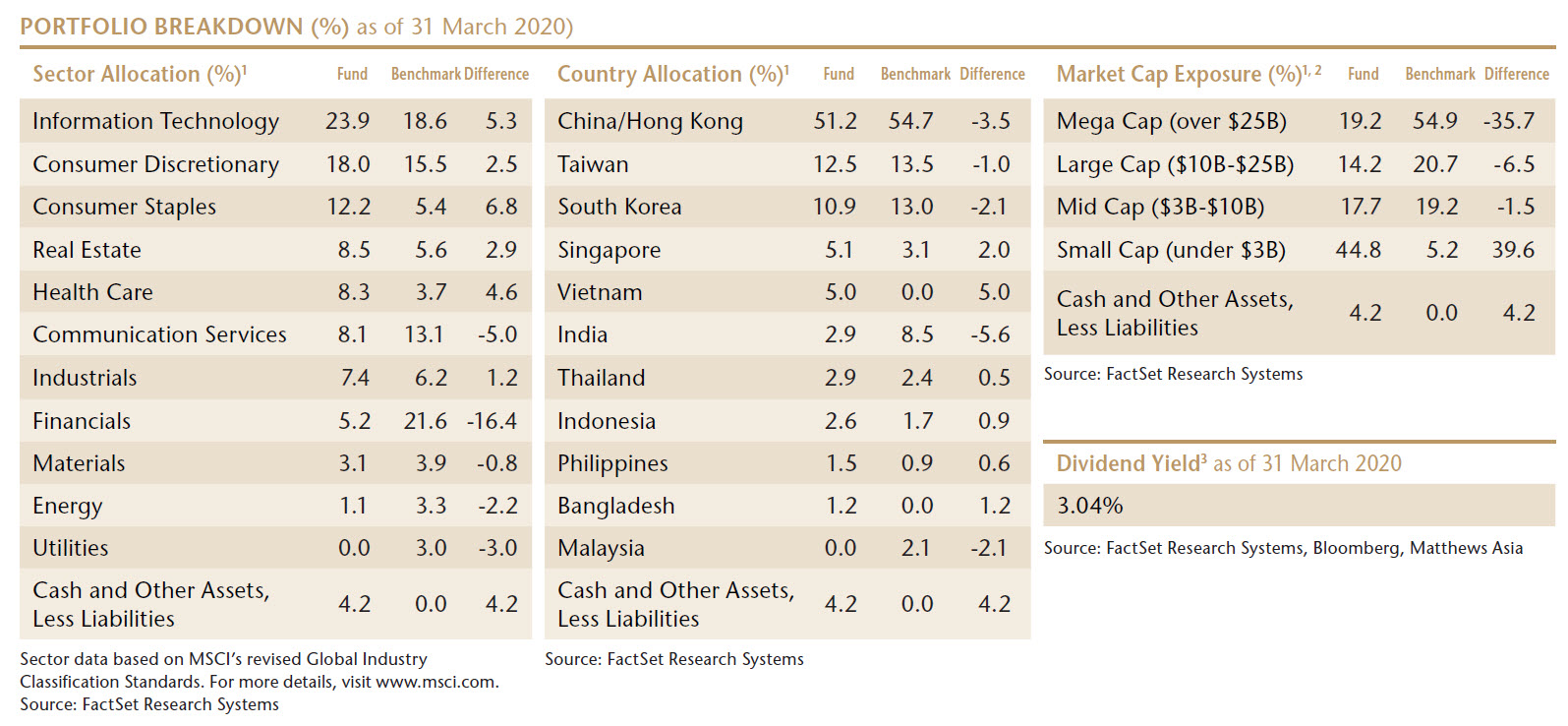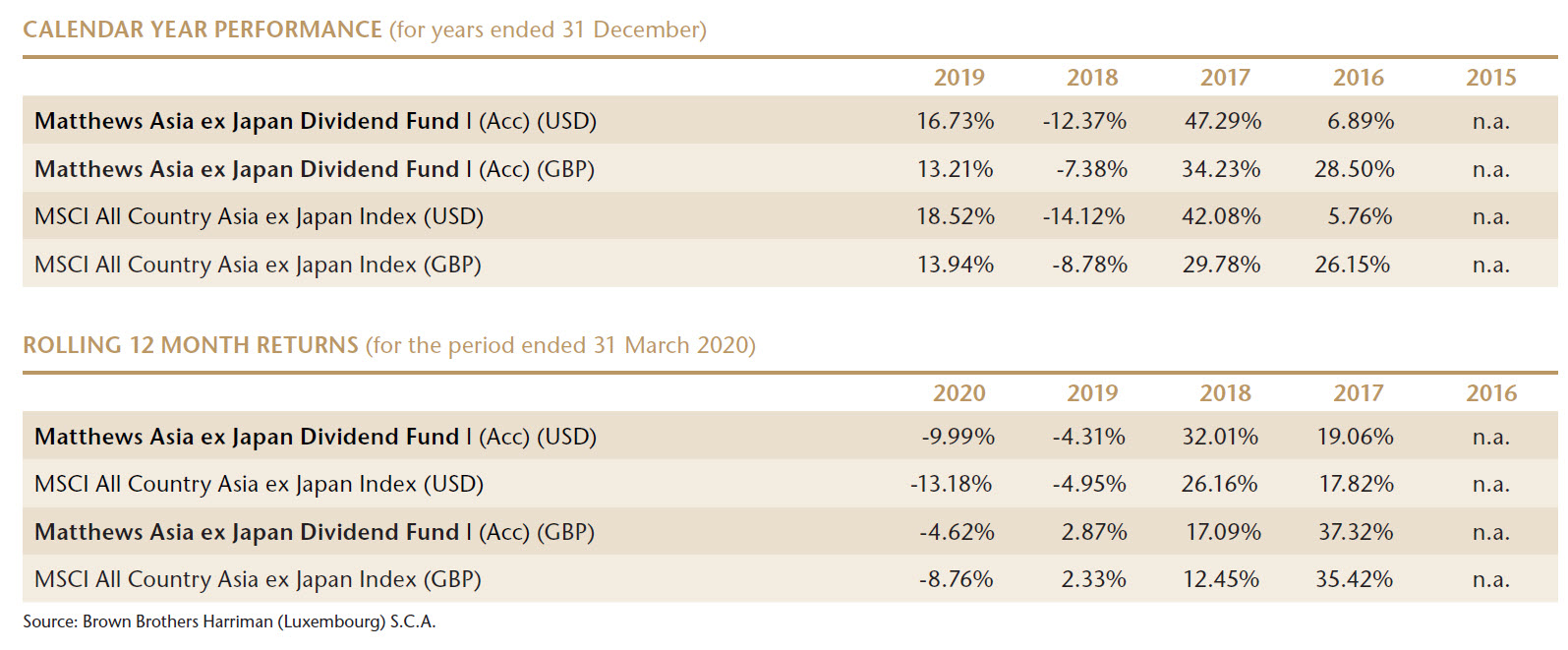 1 Percentage values in data are rounded to the nearest tenth of one percent; the values may not sum to 100% due to rounding. Percentage values may be derived from different data sources and may not be consistent with other Fund literature.

2 Equity market cap of issuer.

3 The Dividend Yield (trailing) is the weighted average sum of the dividends paid by each equity security held by the Fund over the last 12 months divided by the current price as of report date. The annualised dividend yield for the Fund is for the equity only portion of the Fund and does not reflect the actual yield an investor in the Fund would receive. There can be no guarantee that companies that the Fund invests in, and which have historically paid dividends, will continue to pay them or to pay them at the current rate in the future. A positive distribution yield does not imply positive return, and past yields are no guarantee of future yields.