Vivek Tanneeru's Green Streak
Portfolio Manager Vivek Tanneeru discusses the latest developments on Asia's ESG front.
What's new in Asia on the environmental, social and governance (ESG) front? What are you excited about?
Matthews Asia Portfolio Manager Vivek Tanneeru: Finding ESG data has been one of the big challenges in Asia but increasingly stock exchanges, such as Hong Kong, Taiwan and Singapore, have either rolled out or are rolling out initiatives that require companies to disclose—or explain in the case of non-disclosure—ESG metrics as part of their listing requirements. Historically, Asia's stock exchanges have had a weak record of ESG disclosures. But these new reforms seem to be boosting investor confidence in the region. Corporate Stewardship codes are being introduced in markets like Japan, and that is providing further impetus for asset owners to seek not only better disclosures but also better compliance from the investee companies. This is a further driver for improved disclosure and compliance from Asian companies.
On a consumer level, are Asia's consumers choosing products and services that have a positive environmental and/or social impact?
China's new energy vehicle sales have grown tremendously in recent years and China now represents the biggest electric vehicle (EV) market in the world as consumers look to take advantage of government subsidies while trying to maintain greener lifestyles. If you are going to get stuck in traffic in China's megacities, it's perhaps preferable to get stuck with silent EVs with zero emissions compared to getting stuck with smoke-belching combustion engine cars and buses!
Also, across Asia, demand for "natural" and organic products, such as cosmetics, are a big trend now. In general, Asian consumers are looking for better quality and safety in their products as affluence has increased. Climate scientists have warned that the record-breaking heat waves experienced in parts of Asia (and elsewhere globally) are a sign of the times. And as the mercury has soared, we are also seeing consumers become more concerned with things like energy-efficiency ratings for appliances such as air conditioners.
Since the U.S. has pulled out of the Paris Agreement on climate change, how has Asia responded?
Asia has essentially shrugged it off and has carried on being a leader in addressing climate change. Take renewables for instance. China in the first nine months of 2017 alone installed more solar capacity than the entire installed base of the United States at the end of 2016! And it continued its dominance in 2018 where it installed almost four times as much solar power as here in the States. China also installed nearly three times as much wind power as the U.S. in 2018.
Another example of China's leadership is in energy-efficient transportation infrastructure. Today, China is home to not just the world's largest high-speed train network, but also one of the world's largest subway systems, in Shanghai.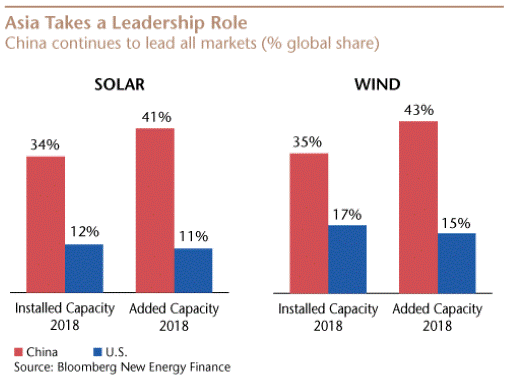 Speaking of public transportation, you never owned a car until your family expanded to require a child car seat recently, is that right?
Yes. The only mode of transportation I ever owned before that was a bicycle, but now we have a hydrogen fuel cell-powered Honda.
What is most troubling about ESG investing these days?
The shift among U.S. investors toward greater emphasis on ESG factors has been a positive change. But as that level of interest among U.S. investors has grown quickly, some firms are taking existing products and strategies and putting ESG screens, or wrappers, around them and marketing them as new strategies. For us, our ESG strategy is driven by our passion for identifying the successful businesses in Asia that improve quality of life and make human or business activity less destructive to the environment, while promoting social and economic development.
What is the most surprising finding from your recent research travels?
It is always a pleasant surprise to hear from small and mid-cap companies that undertake meaningful ESG efforts but don't publicize it as some larger companies do. These companies describe their ESG efforts in an unassuming and matter-of-fact way. In my recent travels, I met with an Indonesian property company that focuses on delivering affordable housing, and which has been doing relatively well amid a severe downturn in the mid to high end of the market. It caters more toward younger families, many of whom are government-employed, that are buying their first homes in the greater Jakarta area. The firm has massive land banks and specializes in developing suburban townships that integrate housing with offices and malls and other services. It also has a smaller urban infrastructure business, which sees some positive synergy as this division of the company also works on improving connectivity with its townships.
Not long after you joined Matthews Asia, it became harder to find a paper cup or plastic utensils around the office. Can you tell us why?
Blame it on Matthews' openness to new ideas! I am a big believer in the "reduce and reuse" philosophy over the recycling approach. So, when I joined the company, I noticed we didn't have very many reusable options. I requested we replace paper and plastic with ceramic mugs and steel cutlery, and that began our journey. As the world becomes more serious about tackling plastic pollution in the oceans, as part of our Matthews Sustainability Committee deliberations we have been seeking ways to eliminate disposable plastic in our offices.
We are fortunate to have such an enthusiastic champion of these efforts in our CEO, Bill Hackett. In 2014, our headquarters obtained a Gold LEED (Leadership in Energy and Environmental Design) certification; we have also offset our travel emissions by buying a carbon-offset credit program that has ultimately benefited families in Cambodia and China and served to combat deforestation in China, which has threatened its panda population; the company became a signatory to the United Nations-supported Principals for Responsible Investment (UN PRI); we have formalized our charitable-giving program; and we have a community volunteering program in which at least half our employees have participated. At Matthews Asia, we continue to find ways to positively impact our local and overseas communities while seeking greater sustainability of our business practices.