Five Years of Capturing Asia's Growth with a Dividend Portfolio
Portfolio Manager Yu Zhang explains why the Fund outperformed in a challenging environment.
When we launched the Matthews Asia ex Japan Dividend Fund in November 2015, we intended to create an equity portfolio that captures Asia's growth and delivers attractive returns through capital appreciation and the provision of income. We call it a total return approach.
Looking at the Fund's 5-year track record, we are pleased that it achieved its objectives. Since inception it generated an average annual return of 17.38%, outperforming the MSCI Asia ex Japan on average by 5.07% per year1. Capital appreciation accounted for 101.38% of the cumulative total return, with the remaining 34.80% deriving from income (see Figure 1).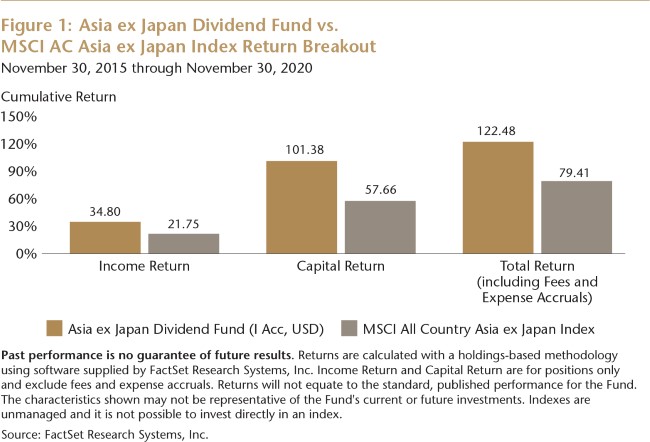 Uncertainties around interest rates, a trade war between the U.S. and China, and most recently a global pandemic created high levels of market volatility across the region at various times. So it has been particularly pleasing to see the Fund achieved attractive risk-adjusted return with an upside capture of 92%, a downside capture of 68%, beta of 0.85 and a Sharpe ratio of 1.06.2
Adapting to change
Focusing on domestic demand and service-orientated companies, our approach of mixing traditional mature dividend stocks with dividend growth stocks helps us navigate volatility in our view. The balance between 'dividend payers' and 'dividend growers' changes based on market conditions.
The Chinese A-Share market experienced a bubble that burst spectacularly five years ago and sentiment on Asian equities was pretty poor. Investors worried about a potential collapse of China's financial system while corporate earnings across Asia posted negative growth. Given these uncertainties, the Fund adopted a fairly cautious stance at launch, favoring stable dividend yield over dividend growth names.
As earnings started to recover, the Fund moved to a pro-growth stance in 2016 and 2017. In 2018 when valuations became stretched and the U.S.-China trade war posed risks, we steered the Fund back to a neutral position. In 2019 the portfolio gradually increased exposure to dividend growth again and ended the first five years with an approximate 60/40 split in favor of dividend growth names.
Such flexibility allowed us to capture Asia's growth upside while providing some downside protection over the past five years (see Figure 2).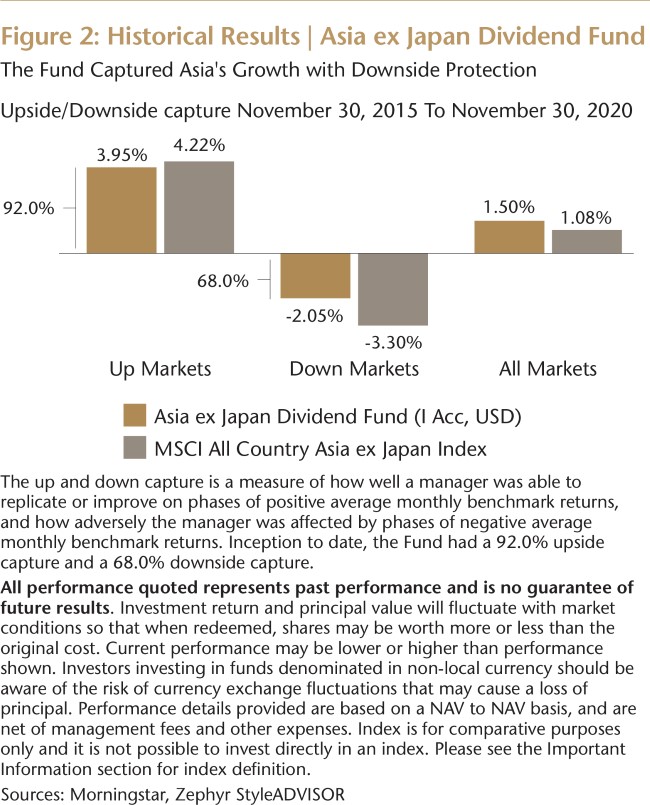 The power of stock selection
Rather than sector or country allocations, the biggest driver of the Fund's relative return over the first five years was stock selection. Within this, some 60% of the fund's total return can be attributed to stock selection within small caps.
In general, it is our view that small-cap companies offer growth potential and are often overlooked from an income perspective. In some areas in Asia, they also tend to be under-researched and therefore may provide potential alpha opportunities. We generally look for companies with strong niche market positions in consumption, services and health care. This in our view provides a good way for investors to gain exposure to Asia's domestic consumption story and its growing middle class.
From a country perspective, the largest positive contributor to performance has come from holdings in China/Hong Kong. While being overweight in this region over the time period proved slightly negative, this was more than offset by our stock selections. China/Hong Kong is a dominant single market within Asia ex Japan and investors should be mindful that this dominance is set to increase even further in our view.
Overall, our North Asia exposure generated positive returns. After China/Hong Kong, South Korea was the second largest country in terms of its return contribution over the last five years, while stock selection in Taiwan - specifically technology companies - were additive to returns.
On the flip side, one of the biggest detractors to performance over the period came from our holdings in frontier markets such as Sri Lanka and Bangladesh, while stock selection in India also proved detrimental to overall returns.
India remains a relatively challenging market for dividend investors. Given many companies are still at the early stage of their growth, their focus is more on growing their underlying business rather than paying dividends. We believe the dividend culture is likely to improve in time. As such we believe companies with sustainable earnings and stable cash flows can provide interesting investment opportunities for a total return portfolio.
One hallmark of the Fund has been its meaningful exposure to frontier and emerging markets. We believe these markets can not only offer alpha opportunities, but also help to mitigate macroeconomic risks. The Fund's 7% average allocation to Vietnam, for example, proved useful to offset wider macro concerns regarding China and the trade dispute. With a growing young population, and much lower wages than China, Vietnam sees an increasing number of manufacturing companies establishing operations there. These conducive conditions in the domestic market may also help these companies to grow their underlying cash earnings in a strong manner and some companies are delivering healthy double-digit growth on their dividends as a result.
From a sector perspective, while being underweight in technology over the last five years, positive stock selection made it the largest contributor to relative performance. The portfolio's focus on consumption-driven businesses was also beneficial, with positive performance coming from stock selection within the consumer staples and health care sectors. Health care is a broadly defined sector, but we consider it part of the Asian consumption story given the structural demand for better quality health care which is currently underserved.
Poor stock selection in the utility and energy sectors proved the largest detractors from a sector perspective. Some of this can be attributed to the overall ESG awareness in the marketplace, with traditional carbon energy and utility companies today facing very different structural and business challenges to those five years ago.
The power of Chinese A-shares
In both 2017 and 2020, the Fund's exposure to Chinese A-share companies allowed us to navigate very challenging environments. While the broad market was being led by the mega cap tech names, these companies started to deliver significant growth and allowed the Fund to keep pace with the index.
The opening of the China A-shares market was one of the most significant capital market developments of the last five years, not just for Asia, but for the entire global market. Having exposure to A-shares offers a unique opportunity to own many interesting businesses that were not previously available to investors.
Fund exposure to Chinese A-shares more than doubled over the last five years, from less than 4% of the portfolio at launch to about 11% at 30 November 2020. This is a direct outcome of not only how the market itself has broadened, but also how access to these shares has widened through both the QFII and Connect programs. Today we regard these companies as classic dividend growth names, which play a very specific role for the overall strategy.
The rise of ESG
We believe the developing world's response to ESG challenges will have a major impact on businesses worldwide. As dividend investors, we have always paid particular attention to corporate governance in our fundamental research process. It has always been important to us to ensure that management teams, as well as the controlling shareholders, put the interest of all shareholders first and to hold them to account on governance practices and standards.
In recent years, we have developed a more systematic way to look at the environmental and social - the 'E' and 'S' factors within ESG - when identifying opportunities as well as assessing any potential risks. Our dedicated ESG analyst helps us integrate these factors into the portfolio. She provides us with a useful set of analytical tools as well as in-house proprietary data, to help us monitor the existing holdings within our portfolio and assess new investment opportunities. With her assistance, we have become more active and vocal in engaging with our portfolio companies to discuss how they can improve their ESG standing.
Looking forward
Overall, we see many reasons for optimism. In the near-term, the resurgence of COVID-19 and the vaccine rollout are likely to drive market volatility. Generally Asia has taken a disciplined approach managing the pandemic compared to the rest of the world. As a result we believe the region is better positioned for a potential post-pandemic economic recovery, but we are closely watching the corporate earnings recovery and broader macro-policy direction to determine the strength of the current market rally. Asian earnings may turn out to be slightly more resilient than anticipated and we believe the dividend outlook for Asian companies could turn out to be even stronger than earnings.
In addition we are looking forward to a new geopolitical reality following the inauguration of President-elect Biden. Trade war tensions have overshadowed the last few years and we will be keenly monitoring how U.S.-China relations develop under a new U.S. government in the near-and mid-term.
It is our belief that the last five years prove that a total-return approach focused on balancing dividend yield with dividend growth can be effective when investing for growth in Asia. A company's ability and willingness to pay and grow dividends can be a powerful signal reflecting the strength of business model and the interest alignment among all shareholders in our view.
Furthermore, we believe that dismissing 'low-yielding, poor governance' markets without due diligence is often detrimental to portfolios. As Asia's markets continue to evolve, companies' dividend policies have changed substantially, often for the better. We search far and wide for companies that meet our stringent criteria and are particularly focused on uncovering smaller-cap and smaller-market opportunities for diversity and growth.
In our view, Asia equities today provide intriguing opportunities for investors, anchored by solid dividend yields and improving dividend growth prospects.




1 Data as of 30 November 2020, in USD, I (Acc) for the Fund. All performance quoted represents past performance and is no guarantee of future results. Investment return and principal value will fluctuate with market conditions so that when redeemed, shares may be worth more or less than the original cost. Current performance may be lower or higher than performance shown. Investors investing in Funds denominated in non-USD should be aware of the risk of currency exchange fluctuations that may cause a loss of principal.
Performance details provided are based on a NAV-to-NAV basis with any dividends reinvested, and are net of management fees and other expenses. Source: Brown Brothers Harriman (Luxembourg) S.C.
2 Data period 30 November 2015 to 30 November 2020. Source: Zephyr StyleADVISOR