We're optimistic on Vietnam given its range of fundamental and geopolitical tailwinds.
Vietnam is a frontier market star. While it is often overshadowed by continental heavyweights China and India, or more established emerging markets such as Indonesia and Malaysia, Vietnam in our view is one of the best structural growth stories in the developing world.
Generally, frontier markets are countries with smaller, less liquid markets that often have reduced operational capabilities and limited foreign investor access. Vietnam has bucked this trend. A key recipient of foreign direct investment (FDI), Vietnam stands out among its peers as a large, more liquid market with 56 companies that have a market cap greater than $1 billion.¹
Resilient export economy
Thanks to a sustained export boom fueled by FDI, Vietnam is a well-positioned manufacturing hub, benefiting from supply chain relocations due to U.S.-China trade tensions. Attracting basic industries away from China and other emerging markets, Vietnam is increasingly moving into higher-value industries such as LED screen production. Substantial road, airport and seaport transportation infrastructure is being rapidly upgraded to cater to increasing export demand.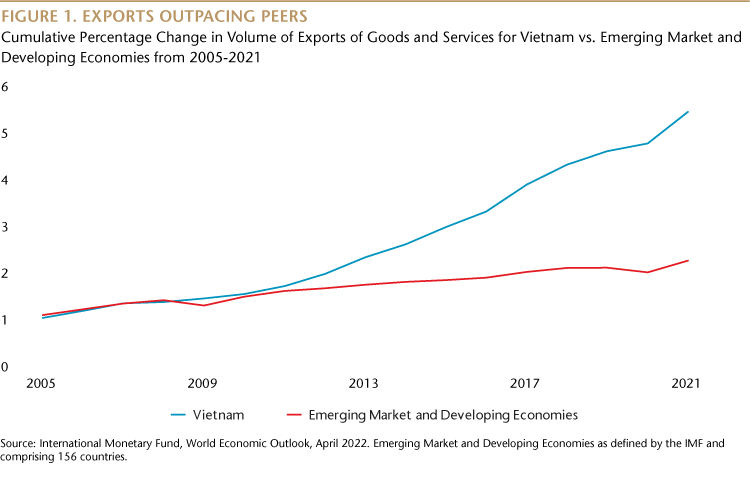 Expanding, skilled workforce
Unlike other frontier markets, Vietnam benefits from shifting demographics and a large, highly skilled, English-speaking labor force. With a population approaching 100 million, Vietnam's young workforce and competitive wages help cement its place as a global manufacturing hub. While other frontier markets face negative demographic headwinds, we believe Vietnam may be positioned to mature through a bull cycle of productivity.


Fertile ground for active managers
Vietnam provides an attractive environment for active managers to find quality growth companies. In general, company disclosure across frontier markets is limited, and analyst coverage is much lower than in developed or emerging markets. This provides opportunities for well-resourced active managers focused on fundamental research to add value.
Our expertise and on-the-ground research allow us to dig deeper to understand how companies earn their profits, what the key growth drivers are and where their customers originate. We believe there are exciting growth opportunities across Vietnam including a logistics company that is benefitting from the country's growing export prowess and a telecom company prospering in the growing broadband market. We believe the characteristics of compelling world-class businesses are consistent regardless of geography. Good companies worldwide share common traits: competitive position, capital allocation, capital structure, cash flow, and character.


John Paul Lech
Portfolio Manager
Matthews Asia


1Bloomberg as of June 10, 2022.